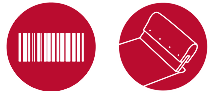 Quality Security Environment
The Quality Security Environment approach is at the heart of all processes at Tiflex. Tiflex puts in place the organisation necessary to meet the fixed QSE goals and implements a dynamic of improvement that lasts.
In order for its Management System to work well, Tiflex defines its fundamental mission as satisfying the demands of its clients within the domains of Printing (Screen and Digital) and Industrial Marking.
Within these 2 markets, Tiflex separates this fundamental mission into 4 core acts:
1. Designing and developing technical solutions
2. Manufacturing products
3. Delivering and distributing products and goods
4. Advising and assisting clients and performing maintenance for their equipment

Our QSE approach is taking shape in our ISO 9001 and ISO 14001 certifications below : 
Access to our SDFs
As a provider which is responsible and respectful with regards to its regulations, we provide you with the Safety Data Files for products sold by Tiflex directly on our website.
[et_pb_kkcontact_form email="qse@tiflex.fr" _builder_version="4.16″ title_text_color="#ffffff" custom_button="on" button_text_color="#ffffff" button_border_color="#ffffff" global_colors_info="{}" _i="1″ _address="4.0.0.1″ /]